Our Products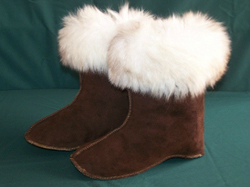 In the production of all our slippers, mittens and hats we use only American shearling. American shearling hide is not only the largest in the world they have the advantage of stronger leather and naturally dense wool. The wool fibers insulate against heat and cold, the wool absorbs moisture and then releases it through evaporation and the leather helps to insulate, because of this the slippers are wonderful to wear year round. We also put a double sole on the slippers, by putting cowhide over the sheepskin for even more durability.
When ordering the slippers make sure to order your shoe size because leather will stretch a little. You will love our mittens and hats on those cold or snowy days, they are great cold weather protection even when wet the mittens will keep your hands warm. Some of our longer wool products are made of Australian sheepskin because of availability, there are only a few tanneries left in America.
This is a family enterprise and we hope you enjoy our products, if you have any questions please call or Email us.
Phone
860-546-9785
.
Contact Us
They are MADE IN AMERICA.